Want to work from home selling products online? For many years I was an executive at an e-commerce company that sold $18,000,000 in sales annually, selling over 10,000 different items. Let me share with your the four key steps and resources you can use to sell products online and making money from home with an e-commerce site.
It's not complicated. If you can take a picture and create (or copy) a few lines of text you can have product available online and for sale in literally an evening if not sooner. If you are drop shipping product you don't even need to take a picture, your vendor will supply pictures for you. You don't need programming skills. You don't need to produce a product yourself. Ready? Let's get started.
Step 1.
e-Commerce Store
You will need an e-commerce site. This is your website that does the selling. Your "store", your "shopping cart". Nothing gets sold without an e-commerce site.
Big Commerce
I have reviewed dozens of e-commerce options and Big Commerce is overall the best I have found. Don't take my word for it, Big Commerce was voted #1 by the worlds most popular review website and Big Commerce powers over 25,000 web stores.
(see chart below)
What makes Big Commerce my choice is that it's an all-in-one, easy to use, SEO and marketing machine. Click here to check out
BigCommerce
and
Try it free
or click the Big Commerce banner to the above to go to the Big Commerce site for more information.
You can access the full Big Commerce review here
http://www.bigcommerce.com/ecommerce-blog/bigcommerce-voted-1-e-commerce-platform-by-worlds-most-popular-software-review-website/
Act now and receive up to $100 in Google AdWords Credit When You Purchase a BigCommerce Plan
Step 2.
You need a product to sell. If you don't have a product, then drop ship.
Drop Ship
There are ways to source quality products to sell online from reputable companies that will ship the product to your customer for you. This is called
drop-shipping
. What is drop shipping? Nothing new, it's a business model that has existed for a long time. You advertise, sell, collect the money, the drop shipper ships product to your customer and you pay the supplier (drop shipper) keeping the profit. Companies that offer drop shipping will often have images and ad copy available and approved and ready for use in your web store.
There are a few ways to find drop ship companies that will work with you. One is by contacting companies that offer products you would like to sell and see if they drop ship. A email to the company with your contact info and website URL can get the ball rolling. The drop ship supplier will usually reply with their specific form or application that needs to be completed and submitted. This can be a slow and time consuming process.
A second and quicker way to find drop ship companies is to join a drop ship directory. Drop ship directories save you tremendous amounts of time by having a database of product suppliers ready. Usually suppliers are grouped by categories so you can compare products and programs easier.
I recommend Worldwide Brands and have worked with Worldwide Brands as a product supplier and drop shipped products for hundreds of their customers, people like you, working out of their homes.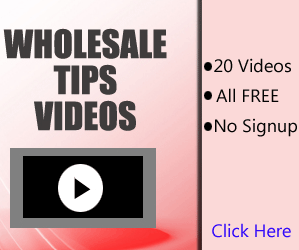 Watch this free video with 20 tips that will change how you look at finding product to sell online.
By the time you're done watching this video series you will know exactly how to source products that you will sell online from your home.
Get a Free Preview of Worldwide Brands Membership
SEO , Keywords and Traffic
Step 3 in the process of selling product online is getting your site found.
You need traffic and beyond that you need buyers to shop your site and make purchases. Big Commerce has SEO tools available. Take it a step further and make sure your site is optimized to attract the best traffic. The SEO Book is a great resource. You will learn:
Keyword Reseach
On-page SEO
Link Building
Competative Research
and More!
Seller sites are great places to list products for sale. Sites such as Amazon, ebay and even Sears.com allow you to list products for a minimal fee. You can reach millions of potential customers and start selling by using the simple templates Amazon, ebay and Sears provide. When you sell on these networks you will get the benefit of having your products in front of millions of potential customers right away.
Sell on Amazon
Click Here!
Sell on eBay
Click Here!
Sellers Marketplace on Sears - clicking takes you directly to the marketplace at Sears Seller Portal
Some lesser know auctions sites that don't get the same amount of traffic as eBay would but offer much less competition so they may be worth checking out.
eBid
Ubid
WeBidz
Webstore
More Info To Get Started Fast
Voted No.1 Internet Marketing Service Online By Imreportcard.com. Chris Farrell Membership Is For Those Serious About Creating A Regular And Continuous Income Online
Click Here!
Get training from an internet millionaire
Click Here for more information!